Events
2018 Club Awards
Nov. 29, 2018 • Andrew Maron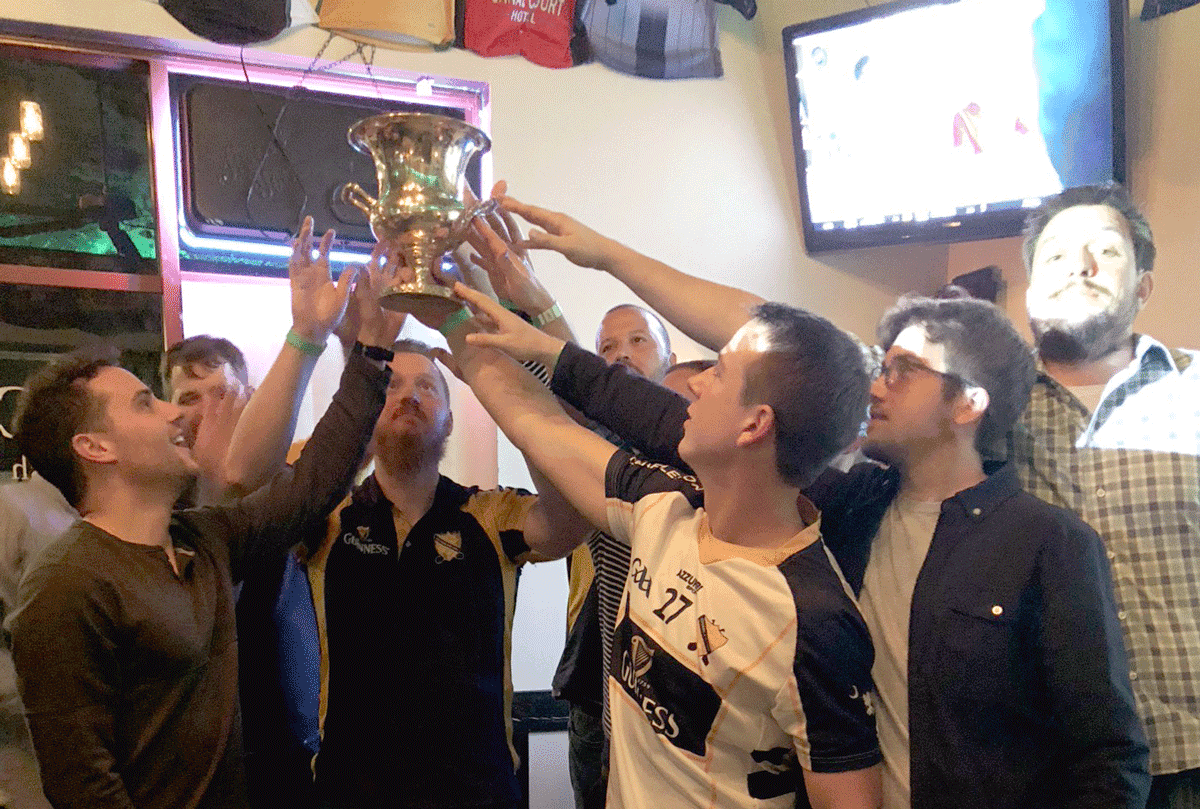 We held our End of Year Awards Party to celebrate the successes of the past year on Saturday, November 17 at McCann's Irish Pub. After indulging in some Shepard's Pie and a round of Jameson for the Fall Pub League victors, we revealed our annual award winners as voted on by club members.
Club Person of Year: Andrew Maron
Vice-Chairman Andrew Maron was chosen as our Club Person of the year. He was integral in helping the club make the progress we have seen over the past year. He accomplished this through managing our social media, organizing practices and tournaments, and a number other behind-the-scenes duties which were key to our successes.
Most Valuable Player: Brendan Dagg
Co-Founder Brendan Dagg was once again chosen as Club MVP. Dagg on his worst day is still one of the best players in the South-East. This past year, Dagg was able to lead us to victory in the Holy City Cup, while also making the time to be Team Captain for Team McCann's in Pub League.
Offensive Player of the Year: Misha Bukay
While only able to make it out onto the field a few times this past year, Misha Bukay always made an impact and played an important role in helping us win the Holy City Cup.
Defense Player of the Year: Paul Moore
Paul Moore was chosen as Defense Player of the Year for his reliable play at mid-field, ability to show up when it counts, and newfound goaltending skills that he put on display during Fall Pub League.
Rookie of the Year: Charlie Kerr
Rookie of the Year was a very competitive race this year, as we had so many stand-out rookies. However, Charlie Kerr got the nod for putting his hockey and lacrosse skills to work, making an immediate impact on the field.
WAG of Year: Tiff Nichols
WAG refers to the "Wives and Girlfriends" of the Hurling Club, and WAG of the year is awarded to the woman who makes the biggest impact on our team. This year the award was well-deserved by Tiff Nichols. Tiff currently serves as our Team Treasurer, and is one of the few active female players on the club.
Most Improved: Austin Dain
Austin Dain was chosen as the Most Improved Veteran for making improvements in his hurling fundamentals. While already one of the fastest players on the team, the improvements to his hurling skills have made him a key player defensively and at mid-field.
Most Missed Veteran: Levi Nogues
Most Missed Veteran was another tight race amongst the candidates, as there are so many former players whom we'd love to see out on the field again. Levi Nogues was presumably chosen for his sense of humor and impeccable home-brew, as it could not possibly be for his hurling skills!
Pub League Champions: Team Tommy Condon's
After a very competitive Fall Pub League, Team Tommy Condon's was declared champions! They were awarded the Founder's Cup, recently renamed to honor our Co-Founders Brendan Dagg and Ryan Shrum. In a show of camaraderie, the two teams shared drinks from the cup throughout the night, a reminder that we are all one club. To honor the victory, the Founder's Cup will spend the off-season at Tommy Condon's Irish Pub.
Until Next Time
It's be a fantastic year and we owe that to your continued participation. Thank you to everyone who made it out for the event! Don't forget to attend our Hurling Holiday Extravaganza (Friday, December 7th, 7 p.m.) at Tommy Condon's. There will be an optional White Elephant gift exchange ($10 and under), and we encourage everyone to wear their ugliest holiday sweaters. See you there!
2019 has more wonderful things in store for the Charleston Hurling Club. - Sláinte
Subscribe to our email newsletter