League
2018 Fall Pub League - Game 2 Recap
Oct. 4, 2018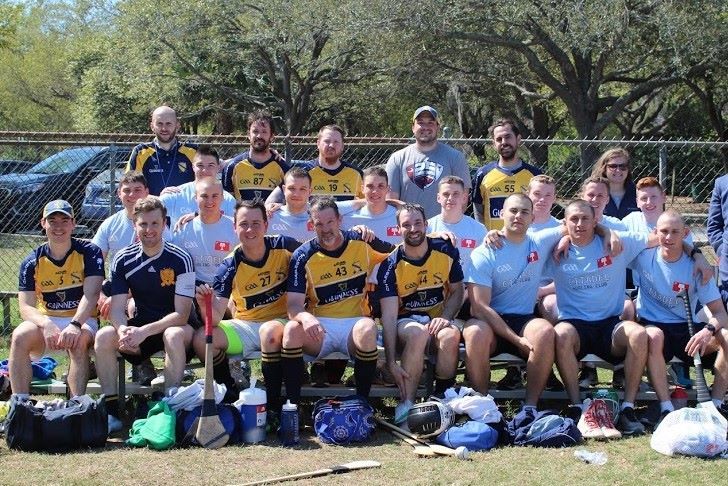 One week after winning the Holy City Cup, there was certainly a renewed enthusiasm for Charleston Hurling, shown through a great turnout for the second round of Fall Pub League. Energized by the relatively mild weather and clear skies, the players hit the field for what would be some exciting and competitive matches.
Game 1
For the first game of the day, we once again saw Team McCann's face-off against Team Tommy Condon's. McCann's improved on their previously impressive attendance with 11 players showing up to play, including new recruit Scott Rohrer. In contrast, Tommy Condon's had to borrow a pair of volunteers from the Citadel in order to have enough subs to avoid collapsing from exhaustion. The match was a constant back-and-forth battle, with the teams being tied 3-1 (10) to 2-4 (10) at the half. Both teams gave everything they had, but a few key defensive plays from Gordon Thompson and Marcus Timo made for the deciding factor. In the end, McCann's were able to hold on to their narrow lead:

Final score: McCann's: 7-4 (25) to Tommy Condon's: 7-3 (24)

Game 2
For the second match of the day, Team Tommy Condon's returned to the field for their first match against the Citadel. With a tournament appearance and a few additional practices under their belt, the Citadel certainly showed improvement from the previous round of Pub League. However, after the narrow loss to McCann's, Tommy Condon's played the game with a chip on their shoulder, showing little restraint against the Citadel. Even with the aid of a few players from McCann's, the game quickly fell out of reach. To their credit, the Citadel players are improving with every passing week, and they played exceptionally well despite the final score:

Final score: Tommy Condon's: 10-3 (33) to the Citadel: 3-5 (14)

Players of the Week
Team McCann's
Gordon Thompson was chosen as Player of the Week for Team McCann's for a number of fantastic defensive plays, including one which saved the game for McCann's at the very end.

Team Tommy Condon's
Frank the Tank Serena Conrad was chosen as Player of the Week for Team Tommy Condon's for his "goal crashing", scoring at least 5 goals across the two games.


| | | | | | | |
| --- | --- | --- | --- | --- | --- | --- |
| Team | Matches | Wins | Player Bonus | Recruit Bonus | Score | Season Total |
| McCann's | 1 | 1 | 1 | 1 | 7 | 18 |
| Tommy Condon's | 2 | 1 | 0 | 0 | 5 | 7 |
| The Citadel | 1 | 0 | 0 | 0 | 0 | 0 |
After Sunday's two matches, Team McCann's has furthered their lead in the season-long tally. However, with their first win of the season, Team Tommy Condon's is hoping to make a comeback. Pub League continues next week on Sunday, October 7th!
Subscribe to our email newsletter