Tournament
8th Annual Azalea Cup in Augusta
Nov. 12, 2019 • Andrew Maron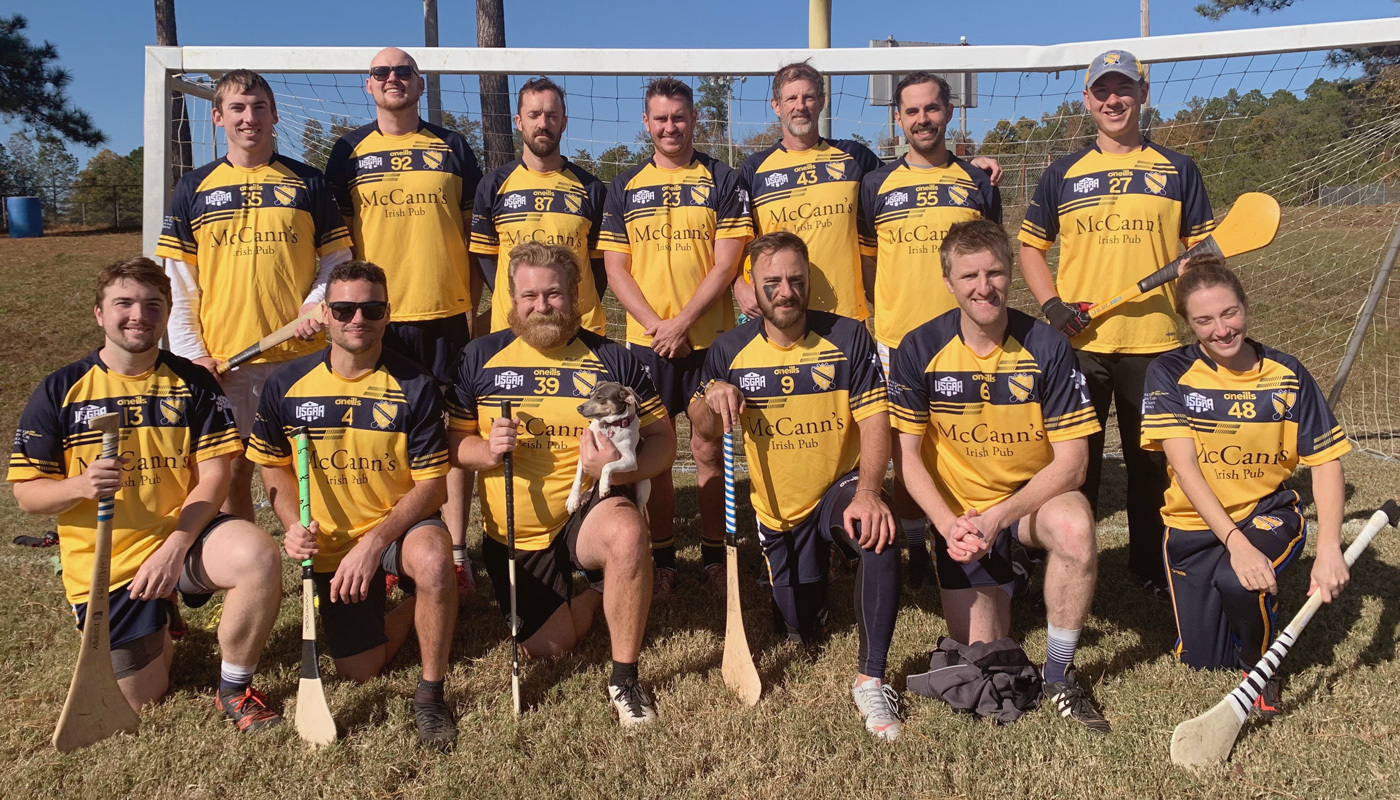 For our final tournament of the year, we made the trip to Augusta for the Azalea Cup. We tried a new experiment as a club, where we pooled our cash and rented a passenger van for the majority of the players to ride in for the daytrip. While it meant having to wake up earlier than usual for the drive, it turned into a great team building experience for those of us in the van. Once we arrived, we saw a number of familiar faces, as we had played most of the attending teams at least once this year. Those of us who made the trip to Knoxville were also happy to see the Augusta players who were our teammates for a day. Augusta greeted us with a welcome package full of bottled water, protein snacks, and koozies. While the temperature was much, much cooler than average, we were excited for the otherwise perfect weather for a full day of hurling.
Our first match had us playing Charlotte for the second time since starting their hurling team. As you may remember from this year's Holy City Cup, we were able to defeat Charlotte by a fairly large margin. However, after taking to the field, it was obvious that this wasn't the same team we played only two months before, as they had significantly more experienced players on the field, compared to the almost entirely green squad at the Holy City Cup. As for our team, we had to compensate for our starting goalie, Ryan Finn, not being in attendance as he was in San Diego for the USGAA National Convention. With Brendan Dagg in goal, rather than out on the field where he belongs, we were a little disorganized to start the half, and made a number of mistakes that cost us points on the board. Despite these missteps, we held a 3 point lead at the half. However, the second half showed very little improvement, with Charlotte's defense putting on an impressive display and holding Charleston to only a handful of free points. Despite our best efforts, Charleston wasn't able to pull out the win:
Final Score: Charlotte 4-5 (17) to Charleston 1-10 (13)
The second match of the day saw us playing against Augusta's Blue Team, several of whom we had played with in Knoxville. After being fairly disorganized in the first match, we made some adjustments to hopefully smooth out our game plan, such as having Gordon Thompson make his debut as goalie. The adjustments certainly paid off, as we were able to score much more consistently, and were able to comfortably hold off Augusta's offensive attacks. After maintaining control for the entirety of the game, Charleston was able to walk away with the win:
Final Score: Charleston 4-4 (16) to Augusta 2-3 (9)
With 2 wins each in their respective pools, Charlotte and Greenville faced off in the Azalea Cup final. However, due to a series of injuries and some early departures, Greenville approached Charleston and asked if we would be willing to lend a hand in the final. This quickly turned into a fast paced match, with both teams heavily relying on points over the bar from mid-field. There were several standout performances from Charleston players, such as Chris Stratton putting on a strong performance in goal and Jordan Smitley dominating at mid-field. While the game was never out of reach for either team, a penalty goal late in the second half gave the edge to Charlotte:
Final Score: Charlotte 3-11 (20) to Greenville 2-10 (16)
MVP: As our tournament MVP, we voted Andy Borgman for his work on defense and for driving the van for the roundtrip to Augusta. Thanks Andy!
After watching Charlotte hoist their first hurling trophy, we all made our way to the after-party at Highrail in Thomson, GA. Knowing that Borgman had volunteered to drive, we could all comfortably enjoy ourselves while numbing the literal and figurative pain from the tournament. The ride home was an event in and of itself, and was the epitome of "you had to be there", so we encourage everyone to lookout for the next time this is an option for tournament travel, as we'll certainly be doing it again!
Now that the travel season is over, it's important to look back on our accomplishments, and how far we've come as a club in the last two years. Only 2 years ago, we were averaging only 6 people per practice and travelled to only one away tournament. This year, we hosted our largest ever Holy City Cup, averaged 15 people per practice, travelled to 5 away tournaments (winning one), and made our debut at Nationals! While we would have liked to have won more tournaments, it's clear that we're on the right track towards becoming competitive not only in our division, but also on a national level. Going into the off-season, we should enjoy the break and rest our bodies, but we also need to be thinking about how we can improve upon our accomplishments next year. So every once in a while, be sure to grab your hurl and sliotar, find a wall, and get those reps in! While this year has arguably been the most successful in our club's history, next year is going to be even better!
Subscribe to our email newsletter