Tournament
2019 Gov. Thomas Burke Tournament Recap
Jun. 24, 2019 • Andrew Maron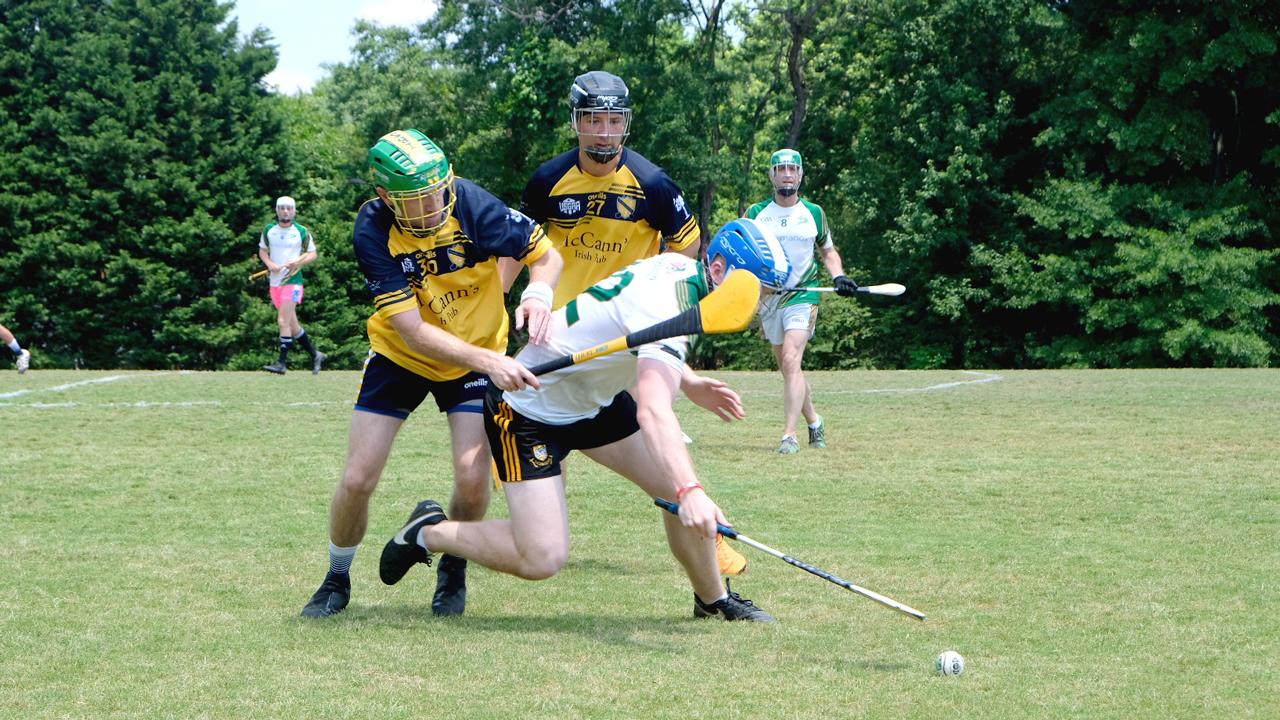 Fresh from a tournament victory in Greenville, we were eager to jump back into some competitive hurling. We spent the 4 weeks in between tournaments further developing our skills and endurance, playing Stick-Toss games without any substitutions and introducing cardio-focused Overtime Sessions. When the tournament schedule was announced, we were excited to see our old rivals, and 2018 Junior C National Champions, Coastal Virginia (formerly Hampton Roads), hoping for an opportunity to play for the first time since they won the Holy City Cup in 2017. We were also expecting Raleigh to be a much more difficult match-up playing on their home fields than when we met at Greenville. While we managed to put together one of the strongest travel teams that we have fielded in recent years, this would be our first 13s tournament on a nearly full sized pitch. With only 3 extra players, we knew that we were leaving ourselves vulnerable in the event of an injury or exhaustion.
Game 1 – Charleston vs Greenville (SE regional qualifier)
For our first match of the day, we played a South East Championship qualifying match against Greenville. We opted to play this game at Raleigh rather than Greenville, as we preferred a neutral location. Being a qualifying match, we also chose to play by Nationals guidelines, limiting both teams to a total of 5 substitutions each and playing 30 minute halves. The first half of the game proved to be a challenge for Charleston. The defense came out a bit sluggish, letting through a pair of preventable goals. However, the offense managed enough scores to keep us in the game, trailing by only 2 points at the half, with a halftime score of 2-4 to 2-2 (Greenville). Unfortunately, 10 minutes into the first half, Citadel Hurling alumni and NCGAA National Team member, Alex Jeter was injured trying to recover the sloitar. Jeter took a hurl to the knee from Greenville's goalie, sounding off a crack heard in Charleston's goal 100 yards away.
At halftime, Coach Brendan Dagg and forward Chris Stratton inspired the team to push ourselves and play to our full ability. And for the second half, we played one of the best halves we've had in years. Despite the loss of Jeter, the offense was able to turn up the intensity and score seemingly at will, putting away goal after goal and point after point. The defense became a brick wall, holding Greenville to only 2 points for the half, both of which came from penalty shots. With the win, Charleston will represent the southern division in a rematch against Knoxville to decide the 2019 South East Champion (TBA):
Final Score: Charleston 5-9 (24) to Greenville 2-6 (12)
Game 2 – Charleston vs Raleigh/Richmond
The match against Greenville certainly took its toll on the team. Multiple players were suffering from muscle cramps and swollen joints and Jeter was confirmed out, leaving us with only 2 substitutions for the remaining games. Thankfully, there was a significant break to recover between games. For our second match, we played a combination of Raleigh and Richmond's extra players, as both teams brought more than enough for one team. Before the match, their Captain approached our club about shortening the game to 10 minute halves. The tournament was already behind schedule and Charleston would likely be playing in the tournament final immediately after. We outplayed them from the start, winning almost every ball at the mid-field and halfback lines. However, offensively we were a bit flat to begin the match, leading 0-4 to 0-0 at halftime. It's amazing how quickly 10 minutes will fly by when compared to the previous game's 30 minute halves. With such a close score, we knew that even just one mistake could cost us the game, so we played the second half more aggressively, leading to a very rare tournament game shut-out:
Final Score: Charleston 2-6 (12) to Raleigh/Richmond 0-0 (0)
Game 3 – Charleston vs Raleigh (tournament championship)
After a 15-minute break, we were set to play for the championship game against Raleigh. As stated before, Raleigh is a very different team at home than when we played on the road in Greenville. Most notably, Raleigh had their star full-forward, Shane McDermott, who would likely need double-coverage if we wanted a chance at the win. We also knew that we might struggle with many players feeling the fatigue of tournament play and only two subs available. Both teams played exceedingly well in the first half. Both offenses had a number of opportunities, and both defenses made some amazing saves. Tensions were high and several fights nearly broke out. The game was very physical, with fouls occurring on nearly every possession.
With a halftime score of 2-4 to 1-3 (Raleigh), we were within striking distance to upset the heavily favored home team. To start the half, Chris Stratton scored a quick goal, putting us within 1 point. However, Raleigh immediately scored a goal in response. Shortly after, Raleigh's McDermott took hard hit to the hand, taking him out for the remainder of the championship game. After this point, it was a long, difficult march to the end of the game. Without McDermott, Raleigh shifted their focus to scoring points from mid-field, while Charleston continued to struggle offensively. Charleston lost another player to injury, leaving the club with one final sub, who was already injured. With the defense finally collapsing from exhaustion, Raleigh scored a final goal solidifying their victory:
Final Score: Raleigh 4-11 (23) to Charleston 2-5 (11)
Tournament MVP
Our tournament MVP (as voted on by our players), is half-back sweeper Robert Coyle. As we've moved into games with larger fields and more players, the half-back sweep position has become critical in winning the opponent's poc outs. To this end, Coyle worked to be the first person at the sliotar, disrupting the opposing offense and minimizing their attempts on goal. Coyle and his fellow half-backs, Clayton Gibson and Paul Moore, made sure that the opposing team would have to go over the half-back line, rather than through them, if they wanted a chance to score.
Despite the loss, Charleston held their heads high at the trophy ceremony, knowing that they gave everything they had at a chance for the win. With a few more players, and without injuries, that game could have easily gone the other way. After the tournament, we attended the after party at the Hibernian Pub in Downtown Raleigh, and had a pint (or two) of Guinness to dull the aches and feel better about the loss. Congratulations on the win, Raleigh!
Upcoming club calendar
Check our calendar for upcoming events, we still have two more Sunday Stick-Toss games at Hampton Park on June 23rd and June 30th. We will then take a short break, as much of the club is travelling to Galway to celebrate the marriage of former player Shannon Farrelly to Sean Martyn! On July 14th, we'll start back up with some Beach Hurling. Afterwards, it will be the final stretch before USGAA Nationals, so let us keep up the momentum! Up Charleston!
Subscribe to our email newsletter