Tournament
6th Annual Scruffy City Invitational in Knoxville
Oct. 22, 2019 • Andrew Maron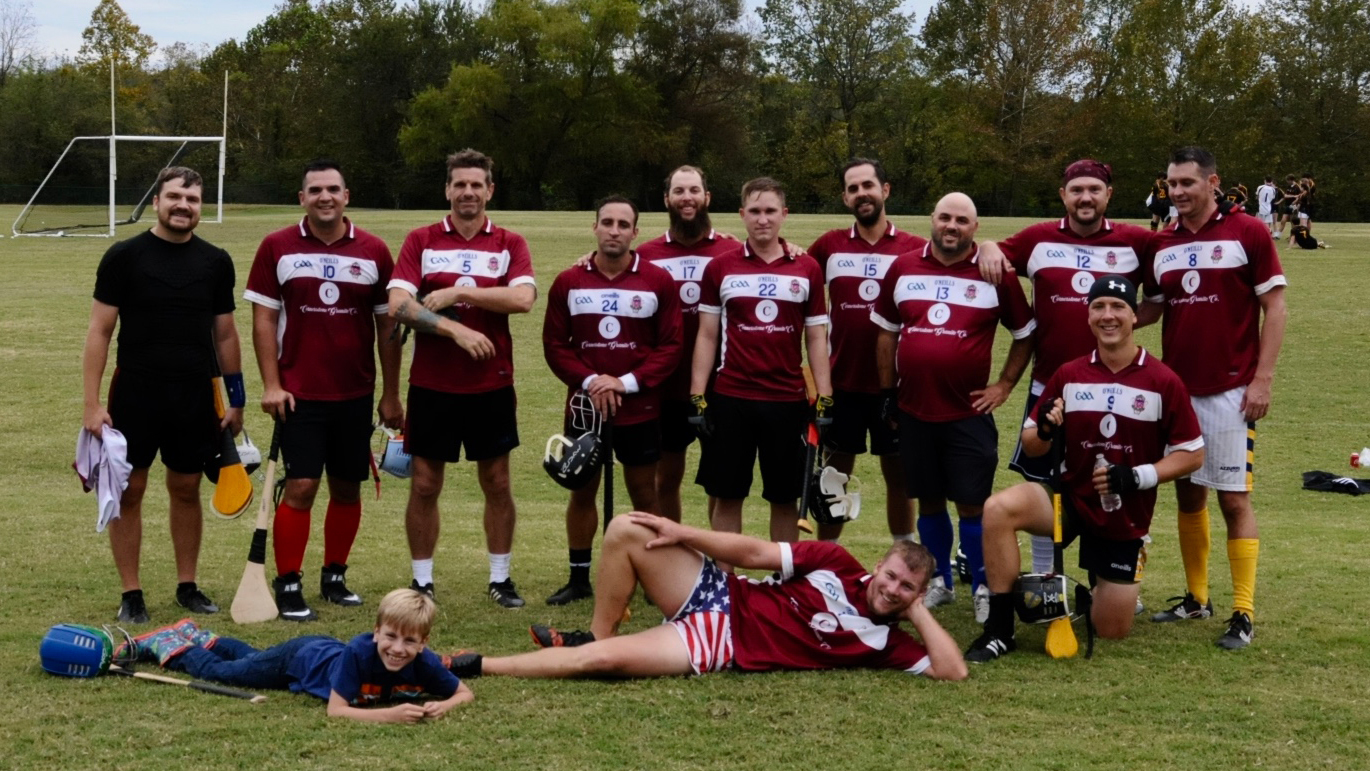 After the 7th Annual Holy City Cup, there was a short respite to prepare for 6th Annual Scruffy City Invitational in Knoxville. As you may be aware, the Knoxville Hurling Club walked away from Charleston with our cup in hand. The bitter taste of defeat left several Charleston players determined to make the trip north to challenge Knoxville for their own trophy, the Clancy Cup.
Logistically, we were unable to send a full team. To help offset the costs of only sending half a team, our sponsor Willin Solutions made a financial contribution, allowing us to book a comfortable Airbnb in Knoxville's Old Town (Thanks Willin Solutions). With only five representatives from Charleston, we agreed to merge with the Augusta Hurling Club, forming a team aptly named: AugChar.
Game 1 – AugChar vs. Memphis
In our first match, we faced off against Memphis. Despite Charleston and Augusta never playing together before, we hit the field running and took a lead over Memphis in the first half. The first half saw two goals from Andrew Maron, followed by Chris Tilley's first ever tournament goal. Ryan Finn delivered terrific poc outs, and Rob Coyle jumped into goal to make his first save while Finn was out on the field.
AugChar could not quite find its footing in the second half. There were a number of missed opportunities by the offense, and the defense could not slow down Memphis, as they had finally found their groove. While Memphis almost pulled off the comeback, AugChar managed to survive:
Final Score: AugChar (26) vs Memphis (23)
Game 2 – AugChar vs. Knoxville
The second match started after only a 5-minute break from our match against Memphis, and we were slated to play the host team. Knoxville exploded out of the gate, scoring several goals fairly quickly, and sending a number of points over the bar. As the score kept climbing, tensions got high, and a member of AugChar was red carded for unsportsmanlike conduct. Traditionally, if you receive a red card, your team must play a man down for the rest of the game. At the halftime, in a showing of great sportsmanship, Knoxville offered to let AugChar play with a full roster, provided that player who received the Red Card stayed on the sideline. Despite playing with even numbers again, AugChar didn't have enough. While the final margin was not close, it was a fun match and we appreciate the good attitude from Knoxville:
Final Score: Knoxville (45) vs AugChar (7)
Game 3 – AugChar vs. Purdue
Our final match of the day pitted AugChar against the NCGAA team from Purdue. Purdue sent a large squad, and convinced us to play 10s rather than 9s, which we had been playing for most of the day.
By game three of any tournament, exhaustion and fatigue become a major factor. Coupled with the fact that much of our roster never found time to eat lunch, AugChar was running on empty. There was some excitement in the air as both teams were fighting for a winning record for the day. This was first ever match-up between these teams and a Purdue alumni plays on for Augusta. Shortly after the throw-in, we knew this would be a good game as both teams were evenly matched. That continued through the first half, with only a two-point spread at halftime. However, as the game stretched on, the physicality took its toll. As it was, neither Augusta or Charleston were able to bring a compliment of mid-fielders. That inability to control the midfield and the compounding fatigue of the day, gave Purdue several easy opportunities to point. In the end, this gave Purdue the advantage:
Final Score: Purdue (29) vs AugChar (25)
After our match against Purdue, we stuck around and watched Knoxville earn a comfortable win over Nashville, keeping the Clancy Cup in Knoxville for another year. While it was disappointing to go 1-2 for the day, it was a successful trip. We had the opportunity to play a pair of teams that we had never competed with before. We also had the unique experience of trying to have two different teams take the field and work together as one. This gave us a lot of insight on how best to distribute the ball and communicate what needed to be done, and forced us to figure out a system that worked through trial and error.
After the tournament, we all walked to Clancy's Tavern and Whiskey House for the after party. We had the chance to talk to some of the other clubs, and hopefully convinced one or two of them to make the trip out to Charleston for the Holy City Cup. The next day, most of us made the long trip home. While we weren't able to go for a hike like originally planned, as we were all too sore from the tournament, we did detour through the mountains for a drive down the scenic Blue Ridge Parkway. After having the chance to play on the same team as Augusta, we are now even more motivated to make the trip to their Azalea Cup on November 9th. This will be our last tournament of the year, so let's have a good showing and add one more trophy to 2019. Up Charleston!
Subscribe to our email newsletter