League
2019 Spring Pub League - Game 2 Recap
Apr. 12, 2019 • Andrew Maron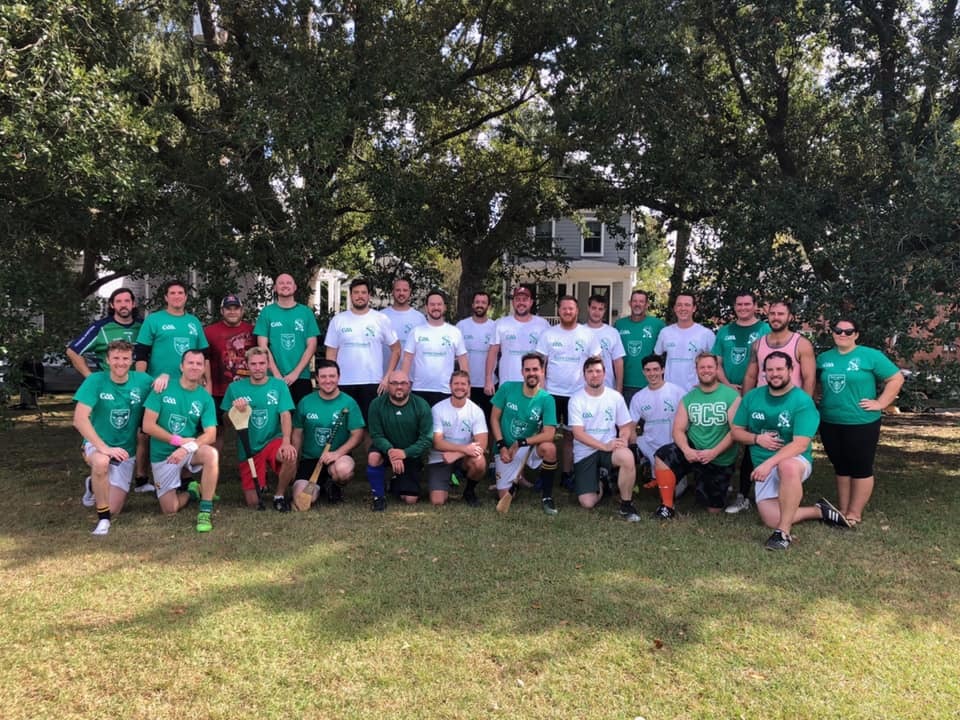 Despite the threat of inclement weather, our second game of Spring Pub League went ahead according to schedule. The field conditions could have been better, but we determined that a bit of rain and mud is no bother. There was also no sense in wasting the good turnout from both teams, though several were absent or still sore from the previous day's Cooper River Bridge Run. As luck would have it, as soon as we put our helmets on to start the game, the rain began and was unrelenting throughout the first half.
With these conditions, the play on the field was sloppy to begin the match. The mid-field turned into a muddy pit, where even the more experienced players struggled to lift the ball off of the ground. The goalies and defenders could barely strike the water-logged sliotar half-way down the field, with each strike sounding off with a loud "splat". Contests for the ball involved mud, water, and hurls flying through the air, and players sliding across the ground. As the game progressed, players had to adapt and rely on our fundamentals. Careful, two-handed lifts were the only reliable strategy for getting the ball into your hand. Short and precise hand passes were the most efficient way to move the ball down the field. This shift in a more conservative play style from both teams was reflected in the tighter score for the second half, with Gold having 2 goals-1 point and Blue having 2 goals. However, Blue was able to capitalize on the early chaos, giving them the advantage:
Final score: Team Blue: 7-2 (23) to Team Gold: 4-4 (16).
Player of the Week
Jordan Smitley, mid-fielder for Team Blue, was chosen as Player of the Week for being the first to the ball every time it landed in mid-field. He also made it through the entire game without having to sub-out, despite finishing inside the top 500 out of 29,000 participants of the Cooper River Bridge Run the day before!
League Standings
Team Blue has successfully extended their win streak to two. However, the game was noticeably closer than the previous match, and Team Gold could easily make up for the deficit as there are still many games left to play. Next Sunday, we will begin the practice with another New Player Skills Clinic, where we will focus on the fundamentals and help reinforce good habits in rookies and veterans alike. Afterwards, we will have another Gold vs Blue match, so be sure to make it out!
Subscribe to our email newsletter