League
2019 Spring Pub League - Games 3 & 4 Recaps
Apr. 19, 2019 • Ryan Shrum
With everyone, including the field, fully recovered from the previous week's mud wrestling match, we were ready to hit the field for another round of Pub League games. But first, to start off the week, we held another one of our New Player Clinics. Coach Dagg ran through the fundamentals of hurling with the rookies and new recruits, and soon they'll be confident enough to join in on the fun! We then moved into the first of our two matches for the week.
Sunday's (April 14) game began as a tough contest, with both Blue and Gold scoring early, keeping it close for much of the first half. However, Blue's defense was able to shut down any further Gold attacks. Blue was also able to provide their offense with plenty of opportunities, resulting in a half-time score of 2-5 (11) to 1-0 (3) in favor of Blue. While Gold had some better luck in the second half, they couldn't do anything to slow down Blue's mid-fielders and offensive attacks, ending in the final score.
Final score: Team Blue: 10-8 (38) to Team Gold: 3-3 (12)
For the second week in a row, Jordan Smitley was chosen as Player of the Week. Smitley is consistently the first person to the ball any time it lands in mid-field. He's also shown weekly improvements in his lifting and passing abilities. With Smitley's help, Team Blue is quick to gain control of the ball, giving their forwards plenty of opportunities make plays on goal.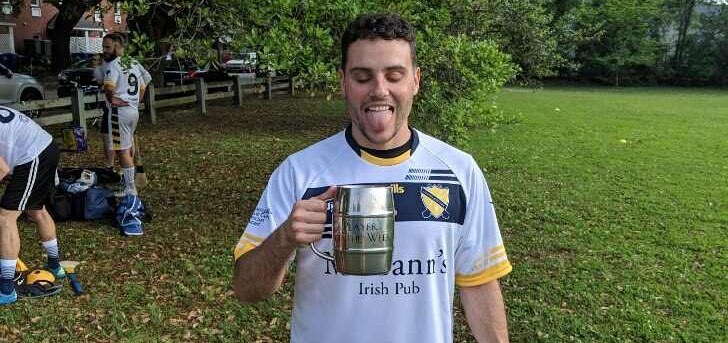 The second game of the week saw our inaugural Thursday Night Game (April 18). Our motivation behind scheduling a game in this time slot was to help facilitate those who can't make it out on Sundays. For that purpose, we believe it was a great success! We were happy to see some old faces with Jeremiah Schnezel and Nick Dowling and we had fun pitting the two co-owners of Daps against each other on the pitch. We also unveiled our new McCann's sponsored jerseys and took the opportunity to break them in during the league match. With the added help from Schnezel and Brandon Callahan, Gold was able to play a strong first half leading at half-time by 2 points. However, after some critical adjustments, Team Blue came out and dominated the second half.
Final score: Team Blue: 9-7 (34) to Team Gold: 4-5 (17)

With these two wins, Team Blue extends their win streak to 4-0. However, with 6 remaining matches scheduled for Spring Pub League, there's still a chance for Team Gold to make a come-back. We will be taking a short break this weekend due to Easter.
Be sure to come out for our Charleston Sevens Invitational next Saturday, April 27th. We'll be facing off against our friendly foes Greenville and Augusta in a series of matches in order to help everyone prepare for tournament season. See you there!
Subscribe to our email newsletter