Newsworthy
Co-ed motion passed at USGAA convention
Dec. 4, 2019 • Caitlyn Lees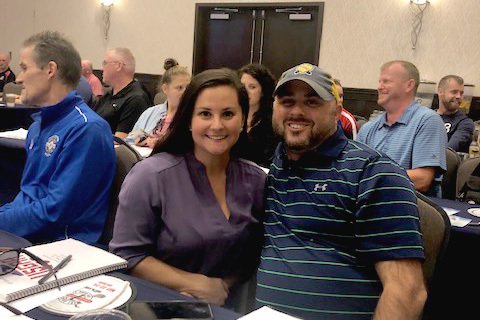 To be honest, I knew nothing about the inner workings of the USGAA, GAA, or anything about the world of organized Gaelic sports just a few months ago. All I really understood was that there was an antiquated rule on the books about keeping men and women who want to play, separate. The Charleston Hurling Club has become a second family to me and I did not want to lose my ability to play.

So on the first weekend of November, Ryan Finn and I hopped on a (few) plane(s) to San Diego to go fight for that right to play. We arrived on Friday afternoon and discussed our plan for the weekend over a great beach-view lunch. Friday night at the convention was slow; the Youth Officer, PRO, and Registrar presented their yearly reports. I found the Registrar's presentation particularly interesting because it showed how few women play, specifically in the Southeast. There is currently only one registered camogie team in the entire southeast division: Atlanta. Charleston only had two female players registered with the USGAA; these numbers were comparable to many of the other teams within our division. We knew we'd be able to use that piece of data to our advantage when advocating for our motion. Finn, a USGAA convention celebrity, introduced me to a few of his acquaintances and we began campaigning for our motion the next day. After Friday evening's session adjourned, I left and went to sleep as it was 10pm west coast time and my body was exhausted. Finn stayed up and socialized with a few of his former Twin Cities teammates.
The next morning, we were up early and at breakfast by 8am. Finn introduced me to former Charleston player, John Greene, and I explained to him what the Charleston motion was all about. He quickly seemed on our side. I also talked with a camog from Philadelphia who had been helping me to garner additional support for the motion. She was very confident that I would do just fine. The morning session was full of more reports: Games Development, Referee Development, Central Council, Treasurer, Secretary, and USGAA Chairman.
During a very delicious lunch with a gorgeous view of the bay, the Southeast Division got together and decided on our opinions for the other 22 motions that were being presented that afternoon. Ours was 22 of 23, so I had plenty of time to watch and learn how the process worked. Many of the motions were straight forward, nothing too contentious. As we knocked through them, my nerves began to grow. My connection at Philadelphia texted me to let me know their whole division was behind me. Seated in front of Charleston was Boston and Chicago, two cities I was told would be concerned about the co-ed play motion. I spoke briefly with a representative from Chicago and after he read our motion, he assured me we had their support and he even began talking to the Boston delegate to get them on our side as well. I was feeling better about the motion, but knew I still had to get over the hurdle of actually presenting. Eventually it was my turn. I stood up with notes that I had edited down to just two paragraphs, and with shaky hands presented our case as best as I could. While I could feel my hands and arms moving, I knew I was able to keep my voice calm and confident. When I finished speaking, I looked up at the members of the board and could see the concern across their faces. I took a seat directly in front of them to keep up my confident front. The first person to speak was a woman from Twin Cities that Finn had introduced me to. She stressed the importance that co-ed teams had on the development of hurling and camogie within their city; I started to feel better. Then, a man from San Francisco stood up and tried to argue that this would never pass Croke Park and the motion should be deemed out of order. My blood began to boil. However, following his remarks, delegates from Raleigh, San Diego, Tampa, Philadelphia, Los Angeles, Milwaukee, and Chicago stood up in support of our motion. After they all spoke I quickly asked to bring it to a vote. As I held up my voting cards in favor of the motion, I looked around the room (and with the exception of the delegates from San Francisco) the ENTIRE room had green cards raised. I was overwhelmed with happiness that I had tears in my eyes as I walked back to where our Southeast delegates were sitting. Hugs and high-fives were all around! I had to leave the room to compose myself because I felt like I had actually made change. While I know the coed play motion still has to pass a GAA vote in Croke Park this February, something about seeing the whole (almost) of the United States standing in support of one motion was an amazing site to see.
After some additional brief business, the session closed for the day and a very fun party began. Drinks were flowing and stories were shared. The camaraderie among the USGAA teams was awesome to watch.
I am so grateful that Finn and I were able to represent Charleston at USGAA Convention. While passing our own motion was something I'll never forget, the connections and memories made were also a great part of the weekend. I am looking forward to attending in Charlotte 2020!
Subscribe to our email newsletter