Tournament
Recapping the 2023 Holy City Cup
Apr. 24, 2023 • Andrew Maron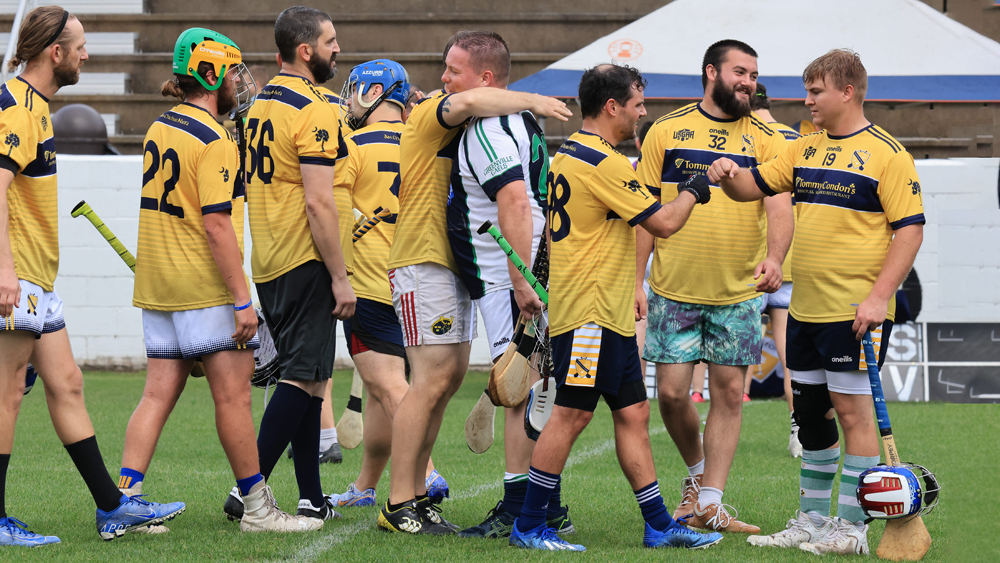 The Charleston GAA hosted the Holy City Cup for the tenth time on April 22 in Charleston. Six hurling teams competed in pool play to determine seeding, with the top seed from each pool playing the second-place team from the other pool. This year's tournament also saw two camogie matches played by teams made up of camog's from Georgia (Atlanta, Savannah, Pooler) and South Carolina (Charleston, Greenville, Citadel and Knoxville). Raleigh Cú Chulainn won in 2022 and returned in 2023 hoping to become the first back-to-back winners in the history of the Holy City Cup.
Tournament morning started out overcast with light rain through the first few games. The rain turned into a torrential downpour with lightning suspending gameplay for a brief period during the third game. Play resumed, the sun shined and thankfully the field had sufficient irrigation.
After pool-play concluded, the semifinal seeding was set. The first semifinal would pit Greenville vs Savannah. In a hard-fought match, Savannah executed better down the stretch to win and advance. Semifinal two would be a rematch of the 2022 Holy City Cup final: Raleigh vs Charleston. Both teams put it all on the line. Raleigh striving to advance for a shot at back-to-back Holy City Cup championships. Charleston wanting redemption and a shot at winning their home tournament for the first time since 2021. The score was close at halftime, but Raleigh proved to be too much in the second half, scoring two goals off penalty shots and two more from play.
Would a final between Savannah and Raleigh have the same outcome as their pool play game? Raleigh won the pool-play matchup over Savannah 4-5 to 1-9. Both teams increased their defensive intensity in the final. Every ball was contested, every strike was under pressure. Spectators were on the edge of their seats throughout the game. In the final few minutes of the game Mother Nature returned. Nearby lightning ended play, with Savannah leading Raleigh 1-6 to 1-3.
There was the briefest of periods between the lightning and the torrential rain that followed. Charleston Vice Chair Ryan Finn joked "that's the fastest our club has ever picked up gear." The clubs joined together afterwards for the best craic in the lowcountry at Tommy Condon's pub in downtown Charleston where Savannah GAA was awarded the Holy City Cup.
Subscribe to our email newsletter