Tournament
Charleston ousted as Gleeson Cup holders
Apr. 6, 2014
It was a beautiful day for the fourth annual Tartan Day South Highland Games & Celtic Festival, home of the second annual Paul Gleeson Cup hurling tournament.
To open the day, members of all of the teams gathered in the center of the grounds, in front of 3,500 spectators, for an opening ceremony. This ceremony included a recognition of Charleston's effort in winning the 2013 Paul Gleeson Cup, as well as inducting Gleeson, the tournament's namesake, in to the Order of the Flaming Caber (an honorary group of outstanding individuals providing support to the festival).
Upon conclusion of the ceremony, the first semi-final was to commence; Greenville (SC) versus Hampton Roads (VA). Gleeson, the Consul General of Ireland in the Southeast, threw the ball in a ceremonial throw-in. Greenville came out firing and were a force to be reckoned with. The less experienced, yet rapidly improving, Hampton Roads side could not find a way to slow them down. Greenville advanced to the final winning with a score of 11-10 (43) to 0-0.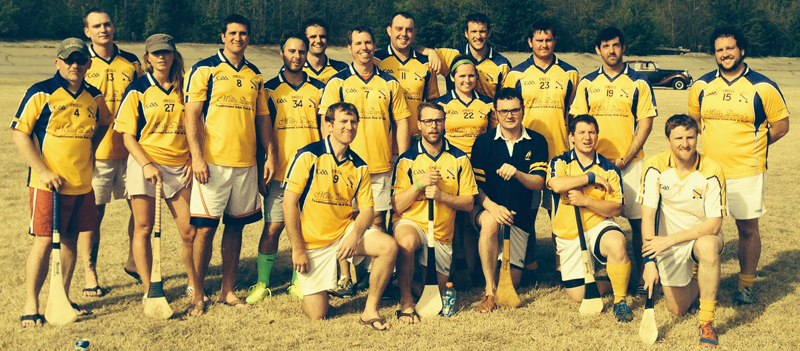 In the second match of the day, the defending cup holders from Charleston took the pitch against a strong Raleigh (NC) side. Both sides fought hard and there was a lot of great play from many players, however in the end, Raleigh won, advancing to the final with a score of 5-9 (24) to 4-5 (17).

Scorers for Charleston: Richie Jennings 2-2, Dan O'Neill 2-0, Scott Landreth 0-1, Jeremiah Schenzel 0-1
With the two semi-final matches in the book, the stage was set for the consolation final; Hampton Roads versus Charleston. Hampton Roads came off the opening whistle with a quick point. That was soon answered by a goal from Charleston. Both teams looked to build, whilst fatigued, on shortcomings in their respective first matches. The team from Charleston proved to be too much for the Hampton Roads players. Charleston defeated Hampton Roads with a score of 12-10 (46) to 0-5 (5).
Scorers for Charleston: Brian Hottinger 4-1, Jeremiah Schenzel 2-2, Brandon Callahan 2-1, Scott Landreth 1-2, Dan O'Neill 1-1, Shannon Farrelly 1-0, Joe Davis 1-0, Richie Jennings 0-1, Brendan Dagg 0-1, Chris Stratton 0-1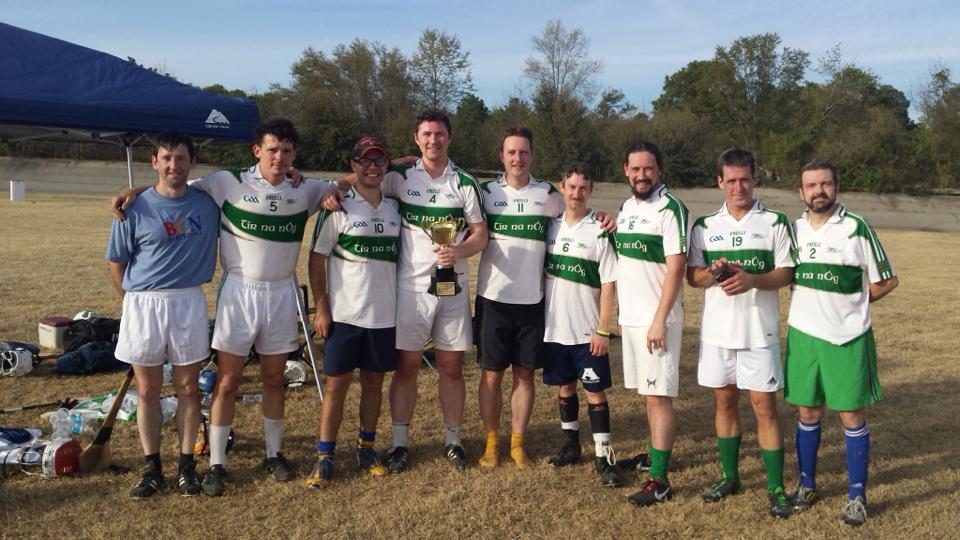 With the consolation final finished, the championship final was underway. Both Raleigh and Greenville started with a similar strategy. The long, hot day had caught up with all the players and fitness levels were tested. However, in the end, Raleigh prevailed as champions of the 2014 Paul Gleeson Cup winning 8-8 (32) to 7-6 (27).
As always, it was great to be out with the southeastern hurling brethren. We look forward to hosting everyone in Charleston, April 26, for the Holy City Cup.
Subscribe to our email newsletter