Tournament
Charleston reclaims Greenville Cup for first time since 2014
May. 19, 2019 • Ryan Shrum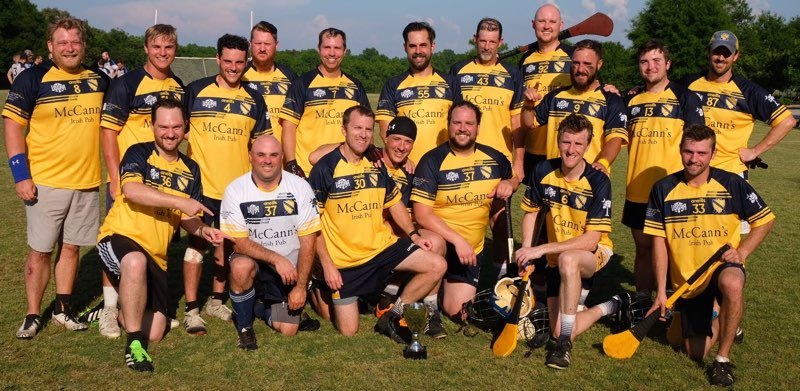 After months of practice and Pub League games, Charleston Hurling finally made its tournament debut for 2019. Most of the travel team made the early drive to Greenville the day of, with everyone showing up on time and ready to play. Even during the early warm-ups led by Coach Dagg, we could tell that the heat was going to play a major role in the games ahead. We also knew that we were in for a lot of running, as we would be playing on a field significantly larger than Maple. However, with such a huge and talented squad, we knew that if we managed our substitutions right, we could walk away as champions.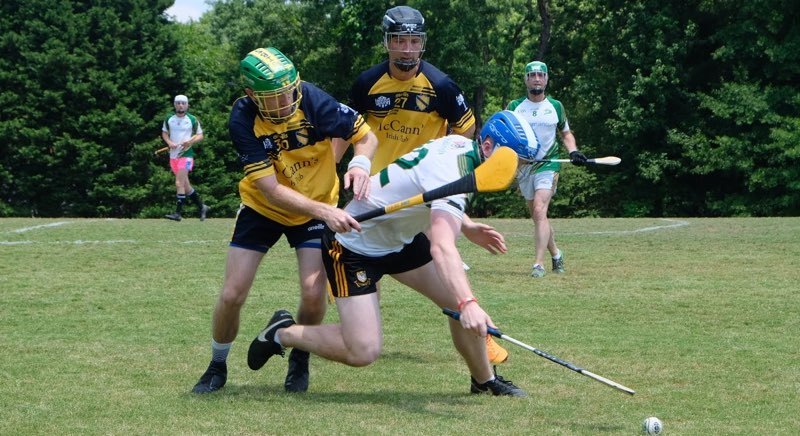 For our first match of the day, we were set to play Raleigh for the first time in years. After a minor delay in waiting for Raleigh's stragglers, we were finally ready to begin the game. Right from the outset, we had a clear advantage due to our strong turnout. Despite recruiting a few players from UNC-Chapel Hill's hurling team, they were only able to bring 2 substitution players, compared to our 7. With this in mind, our strategy was to wear them out as quickly as possible. For the first half, the defense maintained a steady rotation of players, changing positions and trading coverage. This provided the offense with plenty of time to slowly accumulate scores throughout the game. While the match was still anyone's game going into the second half, the heat of the day started to weigh heavily on the players, and Raleigh just didn't have the manpower to keep up.

Final Score: Charleston 4-13 (25) to Raleigh 1-9 (12)

This was the matchup that we were excited about after the schedule was announced. Since Augusta reformed their hurling team, our two clubs have had a close relationship. Though Charleston has a winning record over that time, we have watched Augusta improve in each of our matchups. Going into the game, we were trying not to focus on the later schedule, where if we were to win, we would immediately be playing Knoxville in the final. Whether due to thought of the final, the heat, or lethargy from the long break, we started the match a little slow. Augusta was able to match us almost shot-for-shot, ending the first-half with Charleston up by 1 goal. However, starting with the second-half, Charleston's offense found their rhythm. Led by Chris Stratton and Alex Jeter, and heavily assisted by Ryan Finn's excellent puck-outs, Charleston quickly outpaced Augusta. The offense made score-after-score, and the defense held steady, keeping Augusta's attempts at a comeback in check.

Final Score: Charleston 8-6 (30) to Augusta 4-5 (17)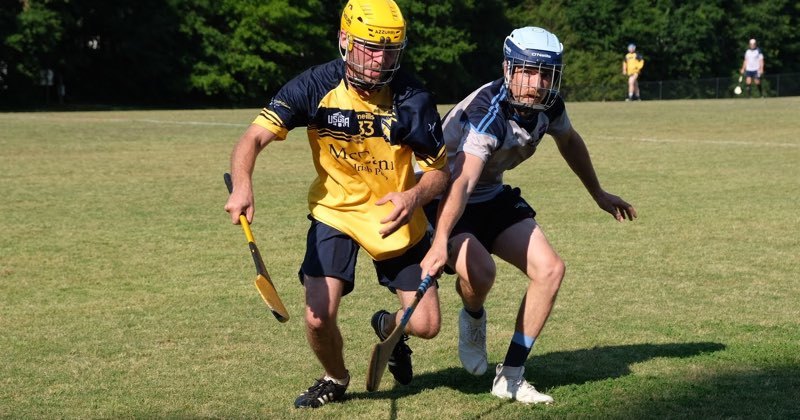 After the commanding win against Augusta, the team's confidence was high. However, we had one last challenge ahead of us against Knoxville. We have a fairly short history of playing Knoxville, after hosting them last year at our Friendly 7's Invitational. They also have two of our former members on their squad, Rob and Meritt Brown, who we were excited to see on the field. On their way to the final, Knoxville handily defeated both Greenville and Raleigh using their strong numbers and impressive endurance. Meanwhile, we had a mere 20 minutes to recover in time for the matchup. Again, we came out flat at the beginning of the game. Knoxville quickly scored a goal and a point, and it felt like we couldn't get anything going on offense. Knoxville had a unique game plan of having only two players in the forward half, focusing on scoring points from mid-field, which they seemed to do at-will. After 2 timely Charleston goals, we trailed by 3 points going into half-time. After a quick pep talk from Coach Dagg to help us regain our focus, we hit the field and gave it everything we had. To start the half, there was a quick succession of goals. Charleston managed to tie the game, with an immediate answer goal from Knoxville. However, after a second goal from Charleston, you could feel the momentum swing. Coach Dagg was able to capitalize on our free opportunities, scoring a number of points from the 65 yard line. Our full-forwards went on to score another set of goals, and our defense was able to force Knoxville to settle for points over the bar in the second-half.
Final Score: Charleston 6-7 (25) to Knoxville 3-10 (19)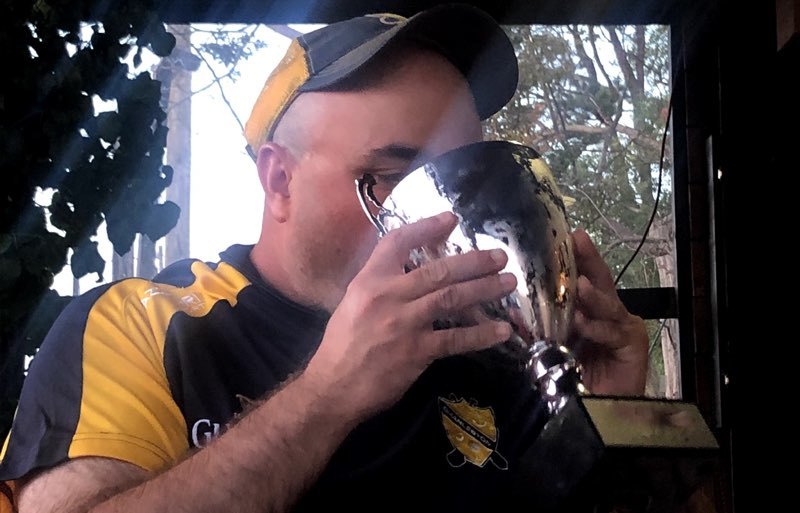 Tournament MVP
As our tournament MVP, the team chose our goalie, Ryan Finn. After Will Nichol's injury, Finn has stepped up as starting goalie for the foreseeable future, doing an admirable job at the Greenville Cup. You only have to look at the final scores of each game to see his impact on the field, where he made save-after-save and never let the other team run away with the score. His other major contribution was his skillful puck-outs throughout each game, making sure that the sliotar always found its way to one of our offensive players.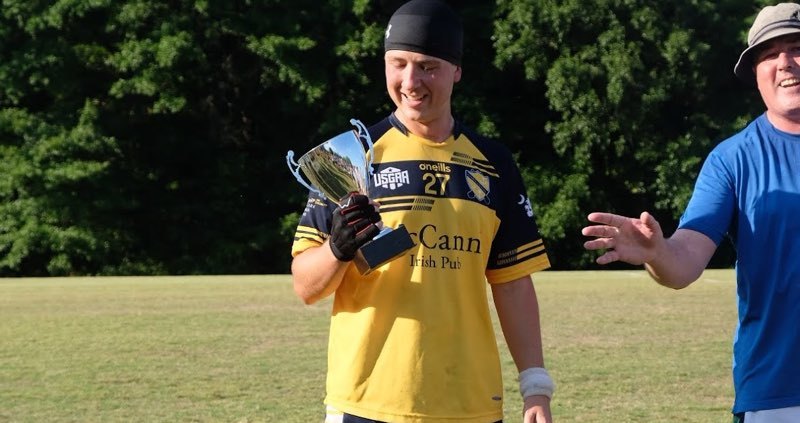 There you have it! Another Charleston victory at the Greenville Invitational. In the closing ceremony, Donough Forde handed off the trophy to Robert Coyle, who was named Honorary Captain for his efforts as Assistant Head Coach. After the tournament, Greenville continued its yearly tradition of hosting the after party at the Irish Pub, where we all happily drank PBR from our hard-earned trophy. In addition to the win, another victory is that no one suffered any injuries, which shows how well Coach Dagg and the rest of the staff have prepared the team for the tournament season. Next up on the schedule will be our Memorial Weekend Pub League game this coming Sunday. Also, be sure to mark your calendars for our next tournament in Raleigh on June 15th, where we hope to keep up the momentum. Congratulations on the win, Charleston!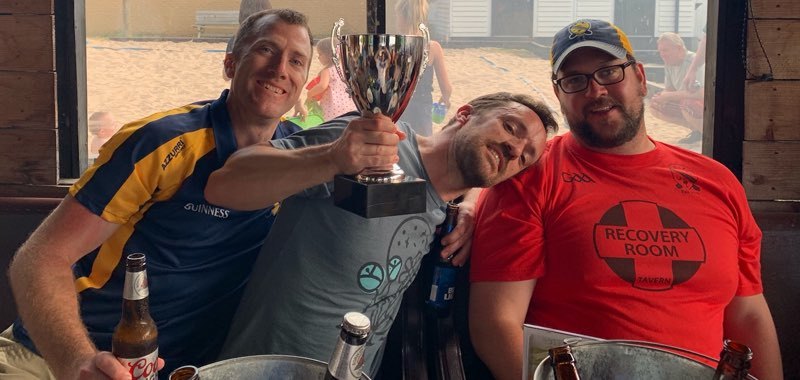 Subscribe to our email newsletter