League
Darragh Doran Real Estate claim inaugural league title
Nov. 17, 2014
A cold and rainy late Autumn day was the setting for the inaugural Charleston Hurling League Championship.
Based on the final standings, Darragh Doran Real Estate (DDRE) who finished top, received a semi-final bye leaving teams Recovery Room and Digico to face-off. BOth teams got off to a slow start due to the abnormally poor southern conditions. With the hard wind and rain the points weren't going to come easy and the Recovery Room defense did a fantastic job shutting down the tenacious Digico attacks. The play went back and forth the entire match, but it was Digico who came out on top by a point to advance to the championship final. Final score: Digico 3-4 (13) to Recovery Room 2-6 (12)

Digico and DDRE were set to engage for the fifth time and final match of the season. The matchup to date saw DDRE leading the series 3-1. While DDRE went in to it cold, Digico had just come off a one point and exhausting win. DDRE came out firing netting two quick goals giving them the early lead. While Digico continued to attack well, they weren't able to execute scores. DDRE continued its frontline dominance throughout the remainder of the match and came out on top to win the first league championship and the prestigious William James "Bill" Murray Cup. Final score: Darragh Doran Real Estate 8-4 (25) to Digico 1-4 (7)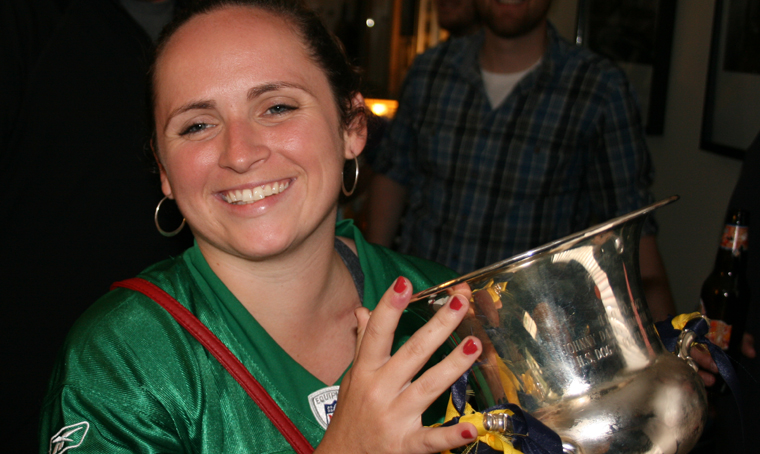 Getting hurling going in South Carolina hasn't been easy but Charleston GAA chairman and co-founder, Ryan Shrum, was delighted with how the first league turned out.
"I couldn't be more pleased with the outcome of our first league. It took the efforts of many folks to make it all possible; members, supporters, and sponsors. For that I am ever thankful," stated Shrum.
After the on-field activity had come to an end, all three teams gathered together, as one club, for food, refreshments, camaraderie, and reminisced on the success of the inaugural league. League Commissioner, Clay Gibson, gave a few words congratulating all three teams on their success and overall improvement throughout the duration of the league. Gibson concluded by presenting DDRE with the Bill Murray Cup – yes, named after the famed, local comedian.
While the season is finished for the year, the club is already planning and looking forward to a spring league, the summer southeast tournamnet season, and many other social events through out 2015. Charleston Abú!
Subscribe to our email newsletter