League
DDRE takes the lead in the standings after Week 3
Oct. 20, 2014
It was a gorgeous day for hurling on Sunday, October 19th, which marked week three of Charleston's fall hurling league. We saw some great play on the field from both experienced and new players.

This week, Digico took on Recovery Room for the first match of their double header. Though Rec Room was missing a few of its usual members, they held their own with the majority of the team being comprised of new players. Both defensive sides were on guard during the first half, and Rec Room managed to keep the more experienced Digico players at bay for a time. Digico led at the half by just one goal. The halftime score: Digico 3-5 (14) v. Rec Room 2-5 (11). Despite Rec Room's continued efforts in the second half, experience prevailed and Digico dominated.
Final score: Digico: 7-12 (33) to Rec Room: 3-9 (18).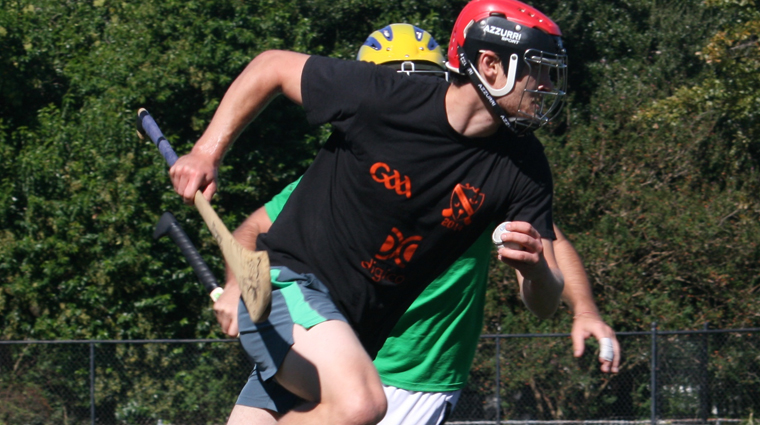 For the second match of the day, Digico faced Darragh Doran Real Estate, who defended themselves well after losing to Digico last week. DDRE was consistent with point-scoring plays during the first half, leading them to a score of 0-11 (11) to Digico's 2-3 (9) at halftime. While Digico picked up on points after the half, the effort was no match for DDRE's goal-heavy second half.
Final score: DDRE 6-14 (32) to Digico 4-9 (21).

To wrap the day, all three teams took a moment to remember the fact that we're all one team, Charleston hurlers, who support one another and work together to better ourselves as a whole. It was great to see the new guys get a chance for some solid play time, and we'd like to extend an enthusiastic welcome to the team. The teams came together once more at Molly Darcy's for lunch and libation in post match celebration.
Subscribe to our email newsletter