League
Digico seeks top spot; DDRE remains on top
Oct. 27, 2014
October 26th was another action-packed Sunday as Charleston Hurling commenced its fourth week of fall league play.

Team Recovery Room played the double header this week, facing Team Darragh Doran Real Estate in the day's first match. While the first time these teams met ended in a draw, the second was a win for DDRE, which resulted in a high-scoring game for both sides. Both teams battled hard this week, and at the half, the score read DDRE 3-5 (14) v. Rec Room 2-4 (10). With just a four-point difference, Rec Room hoped to catch up and surpass DDRE after the break, but while they managed to keep up on the points side, DDRE's goals pushed the team well ahead.
Final score: DDRE 7-8 (29) v. Rec Room 4-8 (20)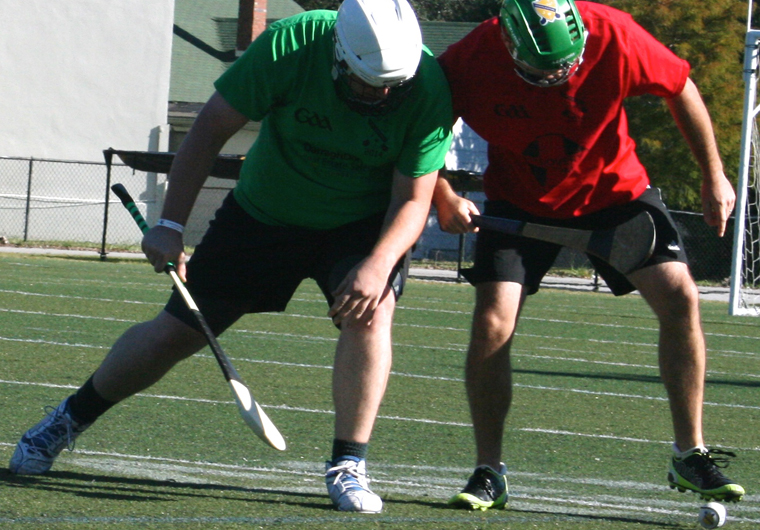 Rec Room took on Team Digico for their second match. Digico secured a big victory last week after having been defeated by Rec Room in their first matchup. Digico led in goals and points through to the half, when they were ahead with a score of 4-5 (17) to Rec Room's 2-3 (9). It looked at the break like Digico might pull off another win, but Rec Room came back in a big way after halftime, racking up an additional 7 goals. Digico scored another 4 goals, but in the end, it was one point that put them on top.
Final Score: Digico 8-8 (32) v. Rec Room 9-4 (31)

All teams performed beautifully this week and had a lot of fun in the process. We're proud to see Charleston Hurling improving with every match and growing more and more passionate about the game. If you haven't been out to the pitch as a spectator or a player, you still have time! Be sure to mark your calendars for the next two Sundays. You won't want to miss a moment of what promises to be an exciting time as the fall league comes to a close on November 9th.
Subscribe to our email newsletter