Tournament
Lessons learned; experience gained at first USGAA Finals
Aug. 26, 2019 • Ryan Shrum
Foreward:
I started hurling in the spring of 2011 in Indianapolis. Shortly thereafter I found out I would be moving to Charleston. We moved Labor Day weekend, the weekend of the USGAA Finals. My final weeks in Indy were filled with hard work and excitement building for the hurlers entering the competition — the buzz was truly contagious.
Fast-forward a few months, I found myself in a new town, not knowing anyone but my coworkers, and reading recaps from around the country on how the USGAA Finals went. I met Brendan Dagg around this time. We both had a similar passion for the sport and agreed to have a go at starting a club.
Fast-forward again to August 2012 and I was invited to Philadelphia to participate as a representative of Charleston (along with Brian Bland and past members Bobby Balles and Brendan Wonn) at the USGAA Finals as part of a Southeast conglomerate team since none of the clubs alone were strong/large enough to send a panel of their own. This was my first exposure to the finals and would further imprint this event as a goal for our newly established club.
It took seven more years.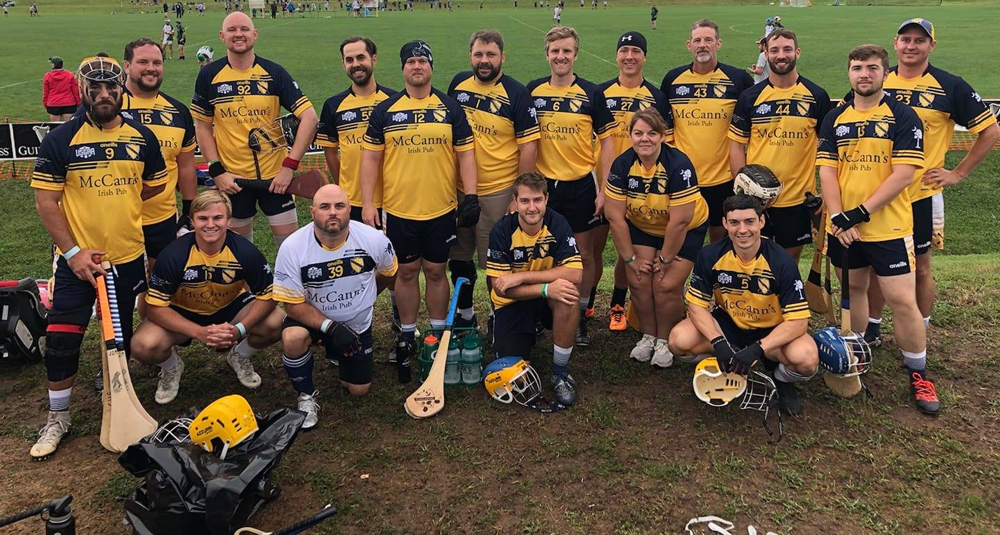 Sure we've won a number of big tournaments and beaten teams in David vs. Goliath style battles, but this year was special. From the start of the year, we had a board and coaching committee that truly bought in on the vision and commitment of sending a team to the North American championships. I finally felt as though we had a group that shared the dream I'd felt so many years before.
We put in a ton of work over the course of the spring and summer months both off and on the field. We had to train, fundraise, and get ourselves mentally prepared for the largest tournament many have played in to date.

We had all agreed to arrive in the DC/Dulles area no later than Thursday night (Aug 22, 2019). Unfortunately, there was some severe weather between Charleston and Dulles delaying a large percentage of our traveling squad and preventing an additional few from making it that night.
We woke up Friday to much cooler and rainier weather than any of us were expecting being the end of August. A number of the members headed to the fields early to take get a lay of the land, take it all in, and support other Southeast clubs that we've become friendly with. Additionally, there were six former Charleston hurlers/camogs representing new clubs that we wanted to support; Shannon Martyn (NYC Liberty Gaels), Johnny Sublett (Indianapolis), Lisa-Marie O'Mahony (Toronto Le Chéile), Nathan Morley-Hillen (Washington DC Gaels), Audrey Rittenhouse (Philadelphia Na Tóraidhe), John Greene (St. Peter's San Diego).
We watched a number of other matches and supported our in-state rivals, the Greenville Gaels, in their USGAA Finals debut against Columbia Red Branch (Portland, OR).

Our first match, the quarterfinal, was slated to start at 3:05 PM against Philadelphia Na Tóraidhe. We spent about an hour before hand getting mentally prepared and warmed up.
From the opening throw-in, Philadelphia showed they were there for a reason. They came out fast and physical — at a pace we hadn't seen before. They were able to get a number of quick goals putting us in a hole that would be challenging to climb out of.
A number of great frees and brilliant sideline cuts later, Philadelphia were besting us at half-time 7-4 (25) to 2-2 (8).
We took our half-time break and tried to re-organize a bit. Unfortunately, due to a number of stupid fouls and a little less speed, we found ourselves consistently chasing. We started to move the ball well and hit some scores, but sadly, we ran out of time and Philly won, advancing to the semi-final — and ultimately won the Junior C Championship.
Final Score: Philadelphia 10-10 (40) - Charleston 3-4 (13)
Of course this was not the outcome we were hoping for nor expecting. We worked very hard to be there and had hoped for better. While we were all a bit deflated, we headed to the Guinness tent and had a few pints before heading back to the hotel to get cleaned up.
Losing Friday meant we wouldn't have a game again until Sunday so we went to the host bar Ned Devine's and enjoyed the rest of the evening.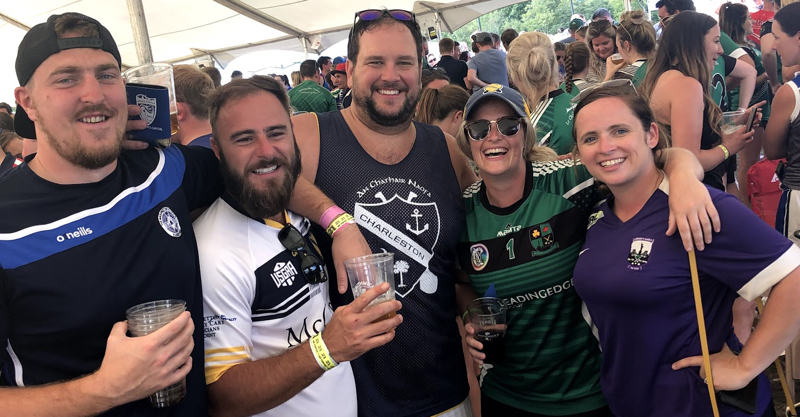 On Saturday, half of the club went in to DC for sightseeing and half went back to the fields to watch day 2, which included the first semi-final of the senior hurling. A number of our former members' clubs had advanced to day 2 and we enjoyed supporting them throughout the day. Those of us at the fields saw a fantastic display of senior camogie Toronto Le Chéile (lead by Lisa-Marie in goals) vs. NYC Liberty Gaels followed by the incredible senior hurling semi-final of Vancouver PJ Ryan's vs. Boston Fr. Tom Burke.
Again a few beers were had at the Guinness tent followed by a relaxing pizza party at the hotel pool. A handful of us went back to Ned Devine's while awaiting our Sunday fate for the shield tournament, which didn't end up being posted until shortly after midnight. We were to face our Mid-Atlantic foes Coastal Virginia (COVA) at 12:15 PM.
—
For Sunday's quarter-final shield match against COVA, we got to the field in plenty of time to get stretched, warmed-up and ready to play. A couple of our players had to leave that morning so we were a little short sided. However, we gained a couple former Charleston hurlers and also had Austin Dain drive up overnight from Charleston to tog out with us which was a massive help.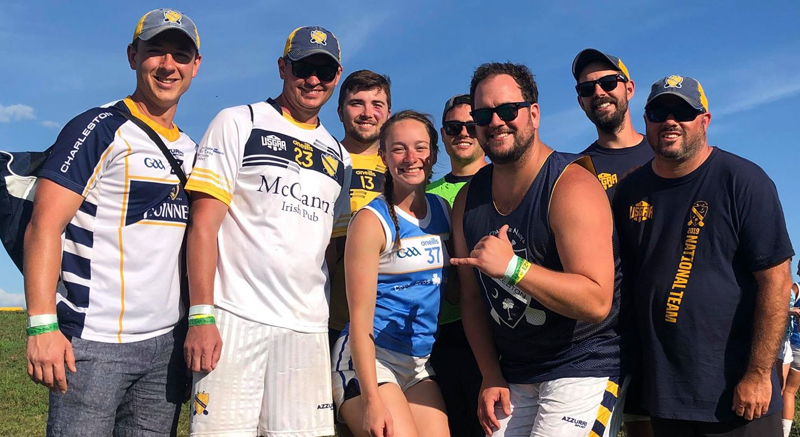 We came out against COVA much better than Philly with Brandon Callahan scoring the first point rather quickly. This game, even though a combined Junior B and Junior D team from COVA, was much more evenly matched. The score went back and forth for the entire short game (15 minute halves). In the end, COVA won by a single point and advancing to the shield semi-final — and later winning the Junior Shield.

Final Score: COVA 1-5 (8) - Charleston 1-4 (7)
That concluded our hurling efforts for the weekend but there was still a lot of great hurling/football/camogie to be watched — and pints to be consumed.
The senior hurling final was even more exciting than the semi-final with the game requiring two extra-time periods. In the end, Vancouver PJ Ryan's bested San Francisco Na Fianna.
All of our former members' clubs playing in the finals lost, but we couldn't be more proud of them for competing in their respective championship finals.
—
All in all it was a fantastic weekend. As a club, we took away a lot of knowledge and experience on what to expect from that event in the future. As one of the founders, I couldn't be more proud of all the effort put in by each person and the new leadership in driving the club on this season to our first appearance at the USGAA Finals. We'll be back faster, stronger, and hungrier.
Next up: Holy City Cup here in Charleston on September 28th at the Chisolm Fields on King Street Extension.
Subscribe to our email newsletter